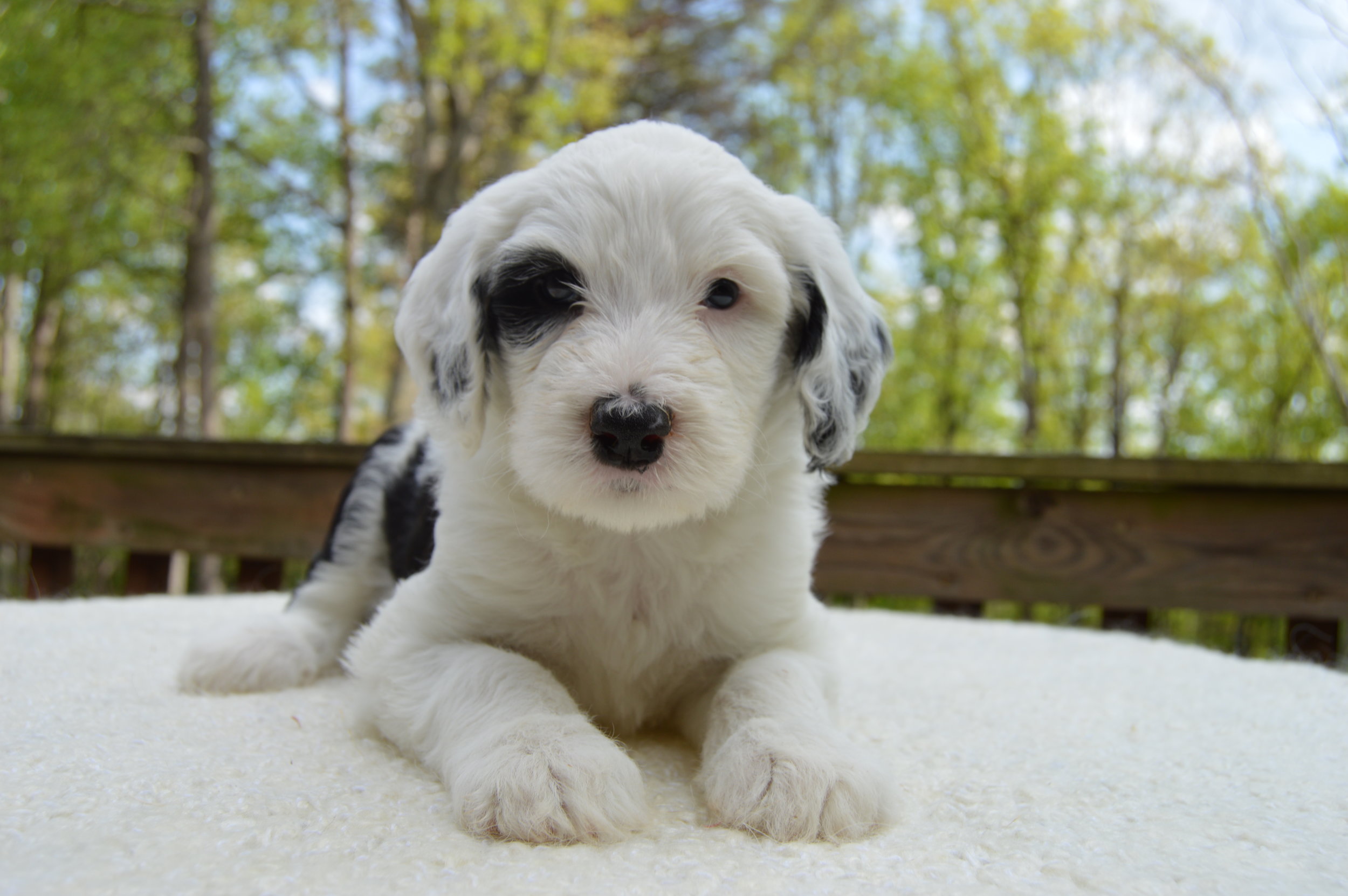 Best Sheepadoodles
nonshedding gorgeous companions
Best Sheepadoodles desires to place Sheepadoodle puppies of exceptional health, temperament and looks in great-fit forever homes.
LOCATED IN BEAUTIFUL gREENVILLE, south carolina, OUR Sheepadoodle PUPPIES ARE family raised and WELL SOCIALIZED WITH OUR CHILDREN.
Sheepadoodles are 50% Old English Sheepdog and 50% Poodle.

Often Goldendoodle or Labradoodle owners looking for a larger dog get a Sheepadoodle.

Typical Sheepadoodle colors are black, black and white, or red and white (rare).

Sheepadoodles are comparable to Goldendoodles with the following differences:

Sheepadoodles are usually larger

Sheepadoodles are usually more likely to be a watch dog

Sheepadoodles have more striking colors (usually)

Sheepadoodles typically have blockier head shapes

Both are outstanding with children, are typically very healthy and tend to love the water

A Sheepadoodle's hybrid vigor is the result of crossing two diverse gene pools (Poodles + Old English Sheepdog). Frequently the resulting Sheepadoodle puppy (OES/Poodle) has fewer health issues than either parent breed would have.
gentle, inquisitive, & loyal companions
Why Get a Sheepadoodle?
Why would a person get a Sheepadoodle? Almost anyone who has owned an Old English Sheepdog has fallen in love with this double-coated shaggy dog. Known for their wildly thick low-shedding coats, Old English Sheepdogs were originally farm dogs/companions with several purposes. They are affectionate, but not overly dependent. To friendly to be a good guard dog, the size and loud bark of the Old English Sheepdog, helps them excel as watch dogs. Their herding instinct will sometimes kick in when the Old English Sheepdog gets protective of children. They're very watchful over children, and like to know where their "kids" are at all times.
Why would you consider a Sheepadoodle instead of a purebred Old English Sheepdog?
Although you never can perfectly predict which trait a hybrid doodle puppy will get, many people find the Sheepadoodle to have these added benefits over an Old English Sheepdog.
Sheepadoodles are usually healthier

hybrid vigor typically makes a doodle healthier than its original purebred counterpart

additionally poodles tend to be a very healthy breed with few hip problems

Sheepadoodles are usually very friendy

might still be a watch dog

but not not as territorial as a purebred OES

Sheepadoodles are intelligent; since poodles are practically geniuses

Sheepadoodles are easier to train than a purebred Old English Sheepdog

Poodles are very eager to please,

Whereas the OES can be somewhat stubborn

Sheepadoodles are usually non-shedding.

Most Sheepadoodle owners say their dog is non-shedding

Pure Old English Sheepdogs are usually low-to-moderate shedders

Sheepadoodles are non-drooling.

Sheepadoodles usually love the water.

Poodles were originally water retrievers

Sheepadoodles are nice exercise companions.

A Sheepadoodle tends to be a much better jogging partner than an Old English Sheepdog who may try to herd you the entire time.

Also Sheepadoodles usually have a little lighter bone structure (though they appear just as fluffy with their thick coats)

Sheepadoodles usually travel very well.

Sheepadoodles are known for being outstanding with children (not as likely to herd children as a pure OES).

Sheepadoodles have more color options than a purebred Old English Sheepdog.

Mini Sheepadoodles give you additional sizing options than you wouldn't have with an OES.

Like most standard poodles, the vast majority of Sheepadoodles are very friendly to other animals (cats, guinea pigs, etc).

Most doodle owners love their present doodle so much that they swear that they will never own another non-doodle dog. Sheepadoodles provide an additional doodle variety for someone who already owns a Labradoodle, Goldendoodle, or Aussiedoodle. Click here for the Crockett Doodles website which explains differences between various doodles.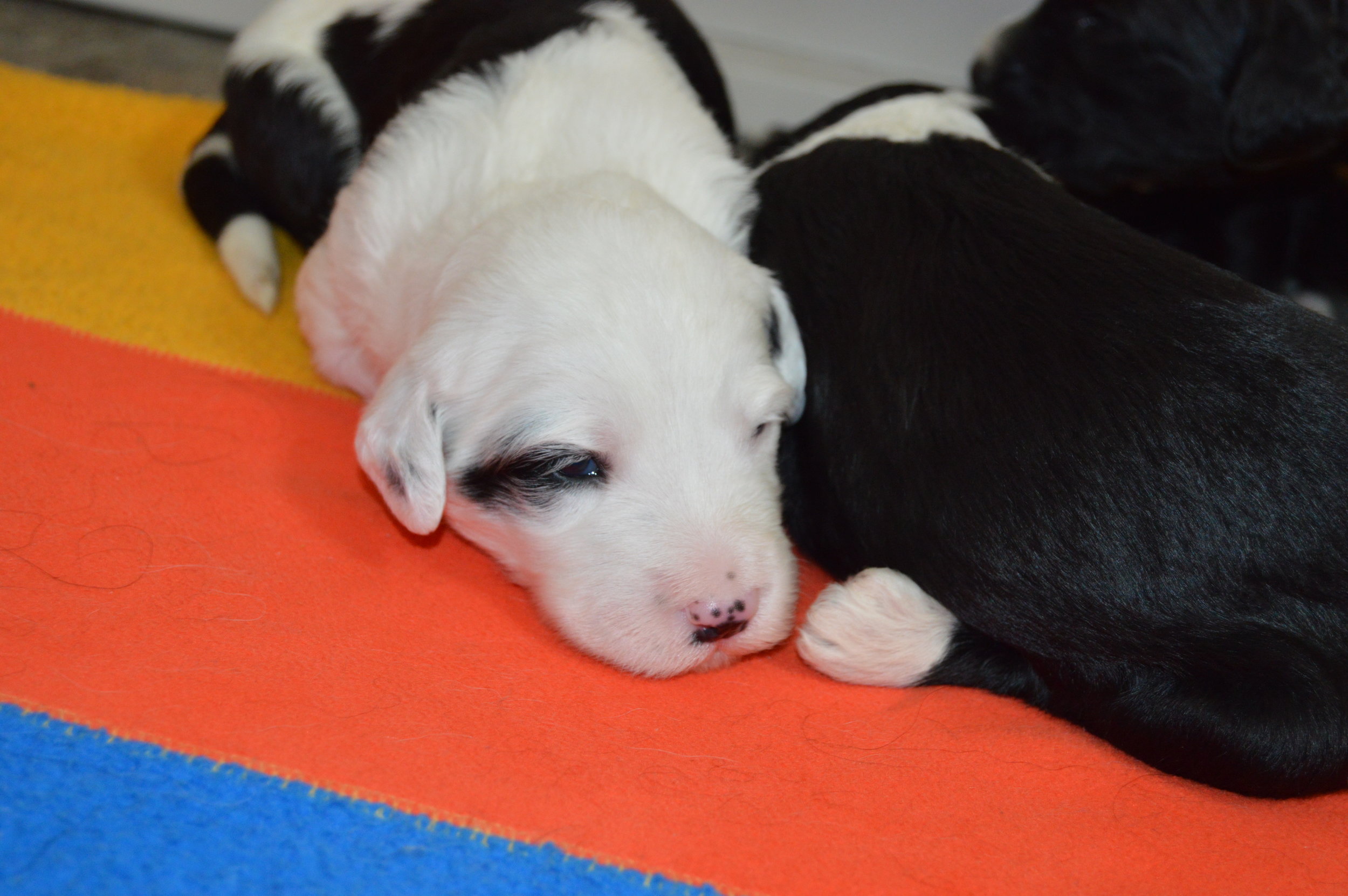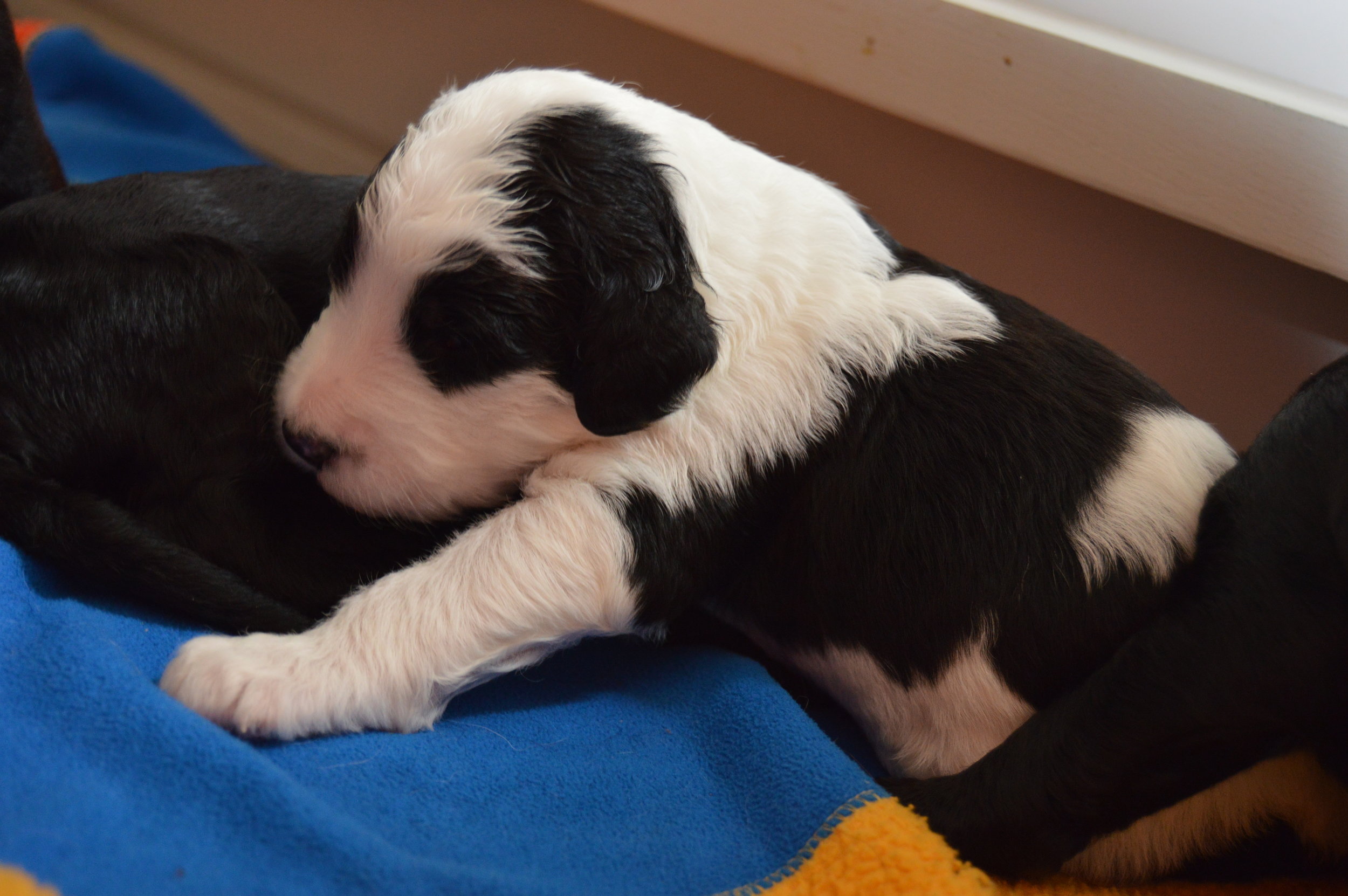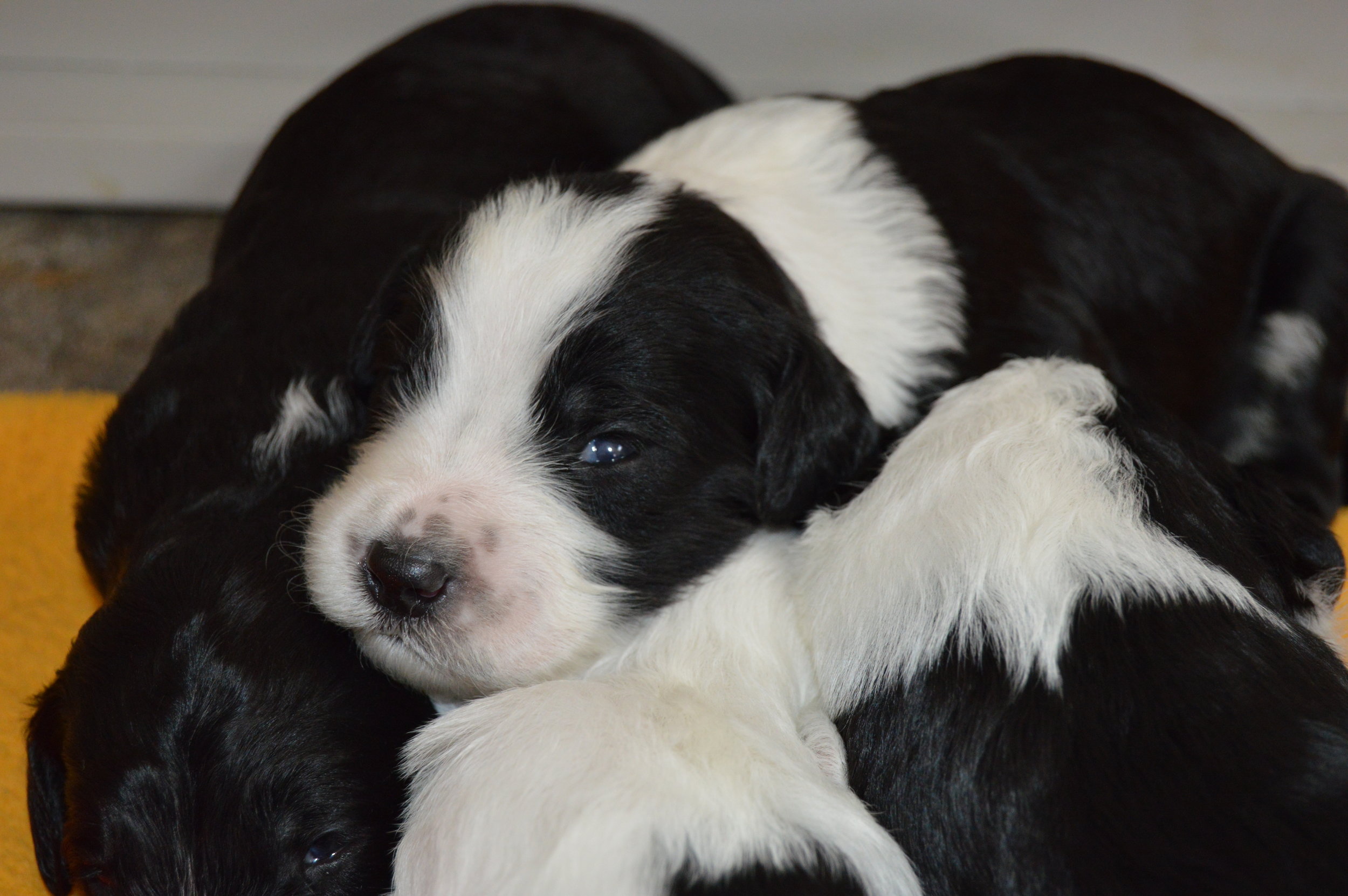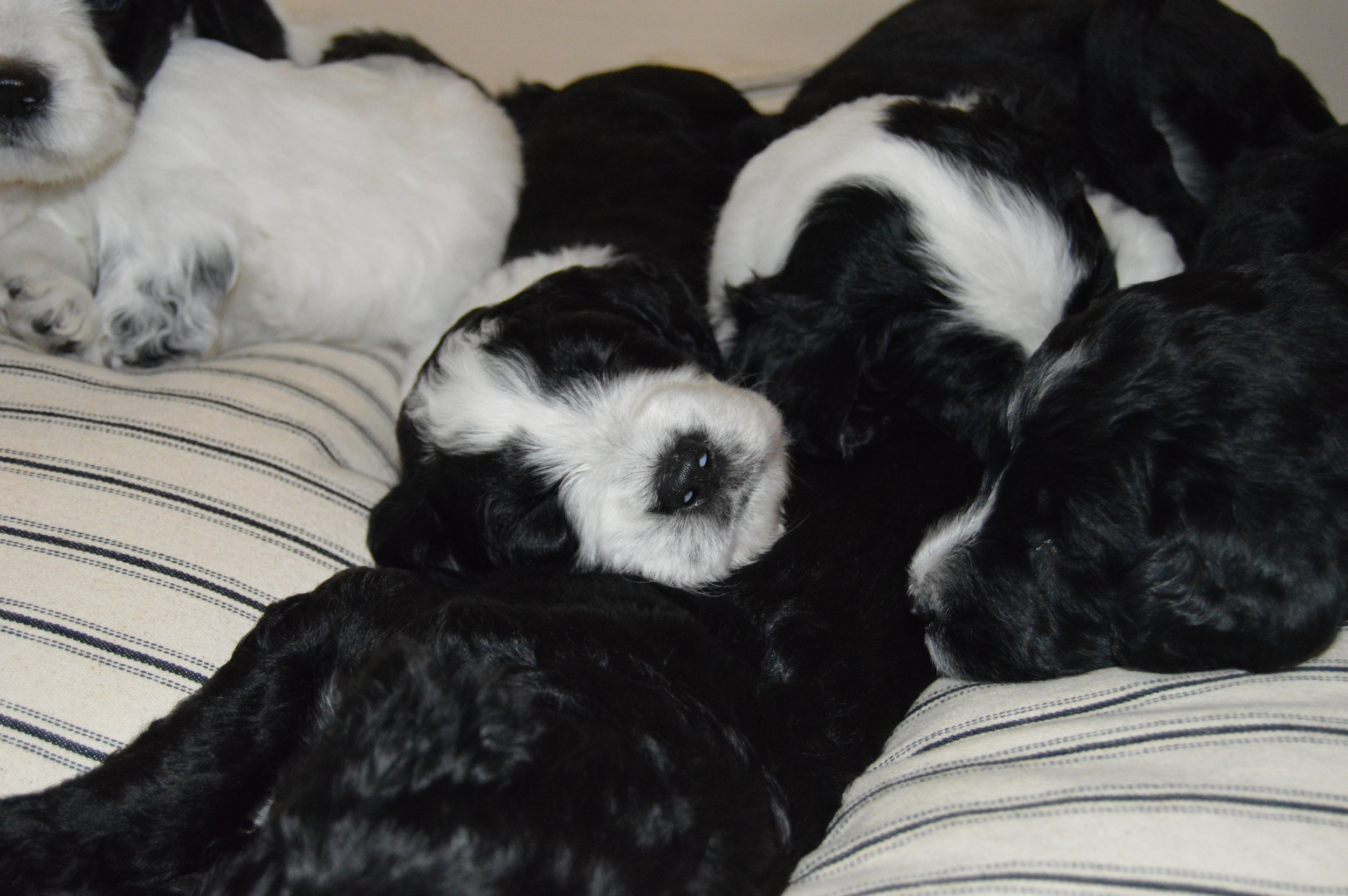 Willow's outstanding temperament matches her good looks. Sometimes we let her get a little shaggy, and then when we have her groomed she looks like a different dog.
We love Our Old English Sheepdog
Willow, is an outstanding Old English Sheepdog. We did a lot of research to find a great breeder, who would sell Willow with breeding rights. We love her temperament, and Willow is great with our kids. Unlike some other Doodle crosses (Labradoodles, Goldendoodles, etc), the Old English Sheepdog sheds very little to begin with. So the resulting puppy has a very, very strong chance of being non-shedding and hypoallergenic.
With Sheepadoodles, you're crossing a non-shedding breed (poodle) with a very low shedding breed (Old English Sheepdog) instead of a high shedding breed (like a Lab) with a non-shedding breed (like a poodle). 
At Crockett Doodles, we have several male poodles (like Indy, pictured here) who can be the dad's for our Sheepadoodle puppies. 
Available Sheepadoodle Puppies from Best Sheepadoodles
If you're interested in a Sheepadoodle or mini Sheepadoodle pup available on this page, please submit a completed application below. This application is only for puppies that are presented on this page.
We match puppies on this Available Page on a first-come, first-served basis once your application is received. To reserve your puppy, a $300 deposit is required prior to an official confirmation that you are matched with that puppy. If you have already placed a deposit with our sister site, Crockett Doodles, your deposit can be applied to this adoption.
Delivery Fee: We will deliver your puppy to anywhere in the Continental U.S. for a flat rate fee of $395. If you choose to adopt more than one puppy from us, a delivery charge of $100 will be applied for each additional puppy.
Serious Inquires only, please.
AVAILABLE PUPPIES COMING SOON
Available Sheepadoodle Application
Through the years, we've tried numerous top quality foods and landed on TLC puppy and dog food. It is definitely our top pick for quality, value, and service (they ship fresh food for free to your door).
Click the TLC logo to get a $5 off coupon, or if you go to the site directly, enter coupon code 68765-1025.